Stepping onto a new path is difficult, but not more so than
remaining in a situation which is not nurturing.
~Maya Angelou
Therapy is about telling your story, finally. Being heard, seen, understood in a safe space with someone who can meet you where you are. No expectations, no telling you what you should do, no judgments.
Therapy is about finding, being curious about yourself. What happened? Where are you now, and where do you want to be? And how do we get you there?
My Style
I approach therapy like I approach all relationships in life, with authenticity. I want to have a heart-to-heart connection and meet as person-to-person, working together to take an honest and compassionate look at what's been hidden away, buried, shamed and cast off.
There is no greater agony than bearing an untold story inside you.
~Maya Angelou
About Me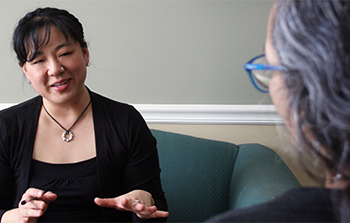 I believe that lasting change happens in the intentional small actions you take every single day. Create the story that you want. Have the life you choose and not the story you were given.
For me, therapy has been an integral part of my own healing. I have wanted to counsel since the age of 16 when I learned for the first time what it felt like to be safe in my vulnerability with someone who lovingly held that space for me.
Outside of work, I am forever on the hunt for my next good read, amazing recipe to try out on my surprisingly discerning 7-year-old daughter, and adventure in the form of self-discovery.
I also like taking long walks anywhere in nature, a good strong cup of coffee, and deep connections with people over poetry of life, lemon or lime confectionary, and honest vulnerability.
I became a psychotherapist because that's where people will unburden themselves,
where they will show what is in their hearts.
~Rollo May
Education and Licensing:
Bachelor of Science in Psychology, Minor in Art History, University of Utah
Master of Arts in Clinical Psychology, Teachers College, Columbia University
Master of Marriage and Family Therapy, Mercer University
EMDR trained
Licensed Associate Marriage and Family Therapist GA #AMFT00052

Under supervision of Alex Peskin #MFT001512, alexpeskinmft@gmail.com
There is no end to education. It is not that you read a book, pass an examination, and finish with education. The whole of life, from the moment you are born to the moment you die, is a process of learning.
~Jiddu Krishnamurti